The International Society for Ecological Economics
Kenneth E. Boulding Memorial Award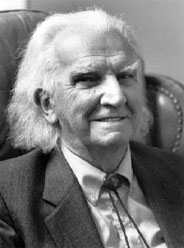 Kenneth E. Boulding (1910-1993) was a leading systems thinker who integrated social theory with the natural sciences and moral philosophy. He was an eccentric, provocative critic of the fragmentation that characterized modern scholarship. Yet his creativity, seminal ideas, and constructive engagement with the scientific community were widely recognized, resulting in his being elected President of the American Economics Association and of the American Association for the Advancement of Science. Kenneth and his wife, Elise Boulding, herself a renowned sociologist, were Quakers who actively contributed to the international peace movement. Kenneth lived humbly, with grace, wit and laughter, and maintained unbounded faith that goodness and sensibility would ultimately prevail in a world, then as now, seriously threatened by human folly.
This award is given in honor of people who exemplify aspects of the special character of Kenneth E. Boulding with the hope of perpetuating his many individual strengths that combined into wisdom among ISEE members and beyond.
ISEE Boulding Award Recipients
1994 | Robert Goodland and Herman Daly
1996 | Ann-Mari Jansson
1998 | Robert Costanza
2000 | C.S. Holling
2002 | Robert Ayres
2004 | Karl Goran-Maler and Partha Dasgupta
2006 | Richard Norgaard
2008 | Manfred Max Neef and Charles Perrings
2010 | Joan Martinez Alier and Ignacy Sachs
2012 | William Rees and Mathis Wackernagel
Some recent Boulding Award Recipients
Manfred Max-Neef has focused the world's attention on basic human needs, especially the non-material needs that development is as likely to destroy as deliver, and thereby opened up critical options for reducing energy and material flows and living compatibly with nature. He is the author or co-editor of several widely read books: From the Outside Looking In: Experiences in Barefoot Economics (1981) and Human Scale Development (1991) and Real-Life Economics: Understanding Wealth Creation co-edited with Paul Ekins (1992). He received the Right Livelihood Award in 1983 and numerous honors since including recognition during this past year in two separate publications as one of the most important thinkers on development and sustainability of the 20th century. Professor Max-Neef has taught on many campuses around the world, ran for President of Chile in 1993 (receiving 5.5% of the vote), and was appointed that year to serve as the Chancellor of the Southern University of Chile where he currently serves as Professor of Ecological Economics.
Charles Perrings has pushed the integration of economics and ecology through research, teaching, and professional leadership over three decades. His research advances theory, is solidly grounded in resource management case studies, and is frequently undertaken with biologists. Since publication of the book Economy and Environment (1987), his research has significantly advanced our understanding of the evolution of ecological-economic systems, and of the role of biodiversity in the resilience and sustainability of those systems. He has actively instilled transdisciplinary thinking into the curriculum of several universities. A prolific researcher, his many books and articles have demonstrated the intellectual gains to collaboration across the social and natural sciences. Perhaps most of all, he has unceasingly led international efforts to promote both scientific research and public understanding of biodiversity, ecosystem services, resilience and other critical concepts linking economy and ecology that are essential to a sustainable future.
Charles Perrings is a former president of the International Society for Ecological Economics and has been Professor of Environmental Economics at Arizona State University since August 2005.