Welcome to the International Society for Ecological Economics
The ISEE is a transdisciplinary partnership of scholars, professionals, and activists from a broad range of backgrounds. Through education, research, policy, and social action, we foster transformation towards an equitable and ecologically sustainable society with respect for the rights of people and nature, biological and cultural diversity. At the heart of this, we recognise that our economy is part of a finite biosphere and needs to respect its ecological limits. ISEE is not-for-profit and member-governed.
Ecological economics exists because a hundred years of disciplinary specialization in scientific inquiry has left us unable to understand or manage the interactions between the human and environmental components of our world. While none would dispute the insights that disciplinary specialization has brought, many now recognize that it has also turned out to be our Achilles heel. In an interconnected evolving world, reductionist science has pushed out the envelope of knowledge in many different directions, but it has left us bereft of ideas as to how to formulate and solve problems that stem from the interactions between humans and the natural world. How is human behavior connected to changes in hydrological, nutrient, or carbon cycles? What are the feedbacks between the social and natural systems, and how do these influence the services we get from ecosystems? Ecological economics as a field attempts to answer questions such as these.
You can join/rejoin at any time and your membership (and journal subscription, if you opt for one) will be valid for twelve months from signing on, regardless of date.
17th Biennial Conference of the International Society for Ecological Economics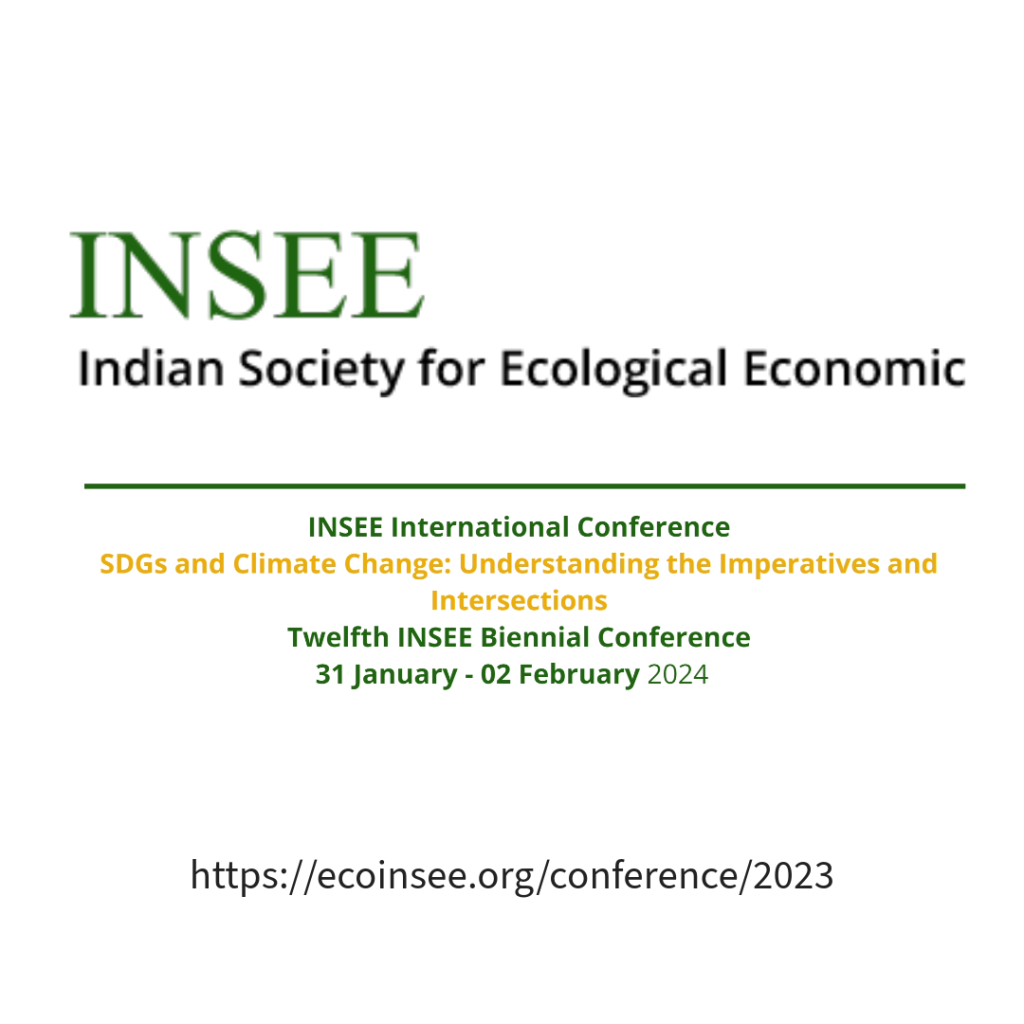 INSEE International ConferenceSDGs and Climate Change: Understanding the Imperatives and IntersectionsTwelfth INSEE Biennial Conference31 January …

XI Jornadas de Economía Ecológica VIII Curso Internacional de Economía Ecológica UNRC, UNVM, UNViMe, 13 al 18 de Noviembre de …
Bina Agarwal Prize for Young Scholars in Ecological Economics Awarded
2023 Bina Agarwal Prize for Young Scholars Professor Federico Demaria The 2023 Bina Agarwal Prize for Young Scholars in Ecological Economics has been awarded to Professor Federico Demaria, UB School of...
The Kenneth E. Boulding Memorial Award for Ecological Economics 2023
This prestigious award is dedicated to individuals who embody the exceptional qualities of Kenneth E. Boulding, aiming to preserve and perpetuate the wisdom he imparted to ISEE members and...
Call for PhD in "Social Sciences for Sustainability and Wellbeing"
Call for Ph.D. in "Social Sciences for Sustainability and Wellbeing" The University of Florence opens a new Ph.D. program in "Social Sciences for Sustainability and Wellbeing." 📚 With 15...
Oxford Summer School in Ecological Economics 2023
Environment Europe Foundation is running a new stellar programme in Business Transformation, ESG, Sustainable and Impact Investment and New Sustainable Business Models that will take place 20-26 August 2023...
ISEE in UN General Assembly during Day of the Earth
General Assembly 12th Interactive Dialogue to Commemorate International Mother Earth Day, 77th Session The President of the General Assembly is convening an Interactive Dialogue during the commemoration of International...
Subscribe to our Youtube Channel
The ISEE Journal
Ecological Economics
The journal is concerned with extending and integrating the understanding of the interfaces and interplay between "nature's household" (ecosystems) and "humanity's household" (the economy). Ecological economics is an interdisciplinary field defined by a set of concrete problems or challenges related to governing economic activity in a way that promotes human well-being, sustainability, and justice. The journal thus emphasizes critical work that draws on and integrates elements of ecological science, economics, and the analysis of values, behaviors, cultural practices, institutional structures, and societal dynamics. The journal is transdisciplinary in spirit and methodologically open, drawing on the insights offered by a variety of intellectual traditions, and appealing to a diverse readership.